The Artsville Collective Experience From the Inside Out
Our January newsletter features an interview with watercolorist Bronwen McCormick and includes a chat with the Artsville team about lessons learned in 2022.
Get to know us better. In 2023 Artsville will offer interviews and backstories from artists that live and work in Western North Carolina, starting off with Bronwen McCormick of Bent Creek Watercolors. Whether you're interested in learning more about the benefits of working with Artsville, thinking about starting to collect art, or you just love staying connected to an arts community, this newsletter is for you. Scroll down to hear about Bronwen's experience, meet the Artsville team, and once you make it all the way to the bottom, join in on a special studio visit with encaustic painter Mary Farmer.
Introducing Backstory with Watercolorist Bronwen McCormick [Interview]
"Do you ever have those moments where nature stops you in your tracks?" For Asheville-based painter Bronwen McCormick, it happens all of the time. Perhaps it's because she lives a hop, skip, and a jump away from Bent Creek Experimental Forest and the Blue Ridge Parkway, which inspires her to paint Western North Carolina's mountains in all of their glory. In fact, she's so intrigued by her local hiking spots that she works under the name Bent Creek Watercolor.
"My artwork explores the natural world and the beauty of our mountain landscapes," Bronwen says. "When you look at my watercolors my hope is that you feel as if you are in nature, whether standing among the trees, or enjoying a view." With the delicate, fluid essence of watercolors, Bronwen mimics the uninhibited fluidity of the natural world. Whether it's the clouds swirling above the mountains or shadows dancing on a tree-lined trail, she masterfully captures movement.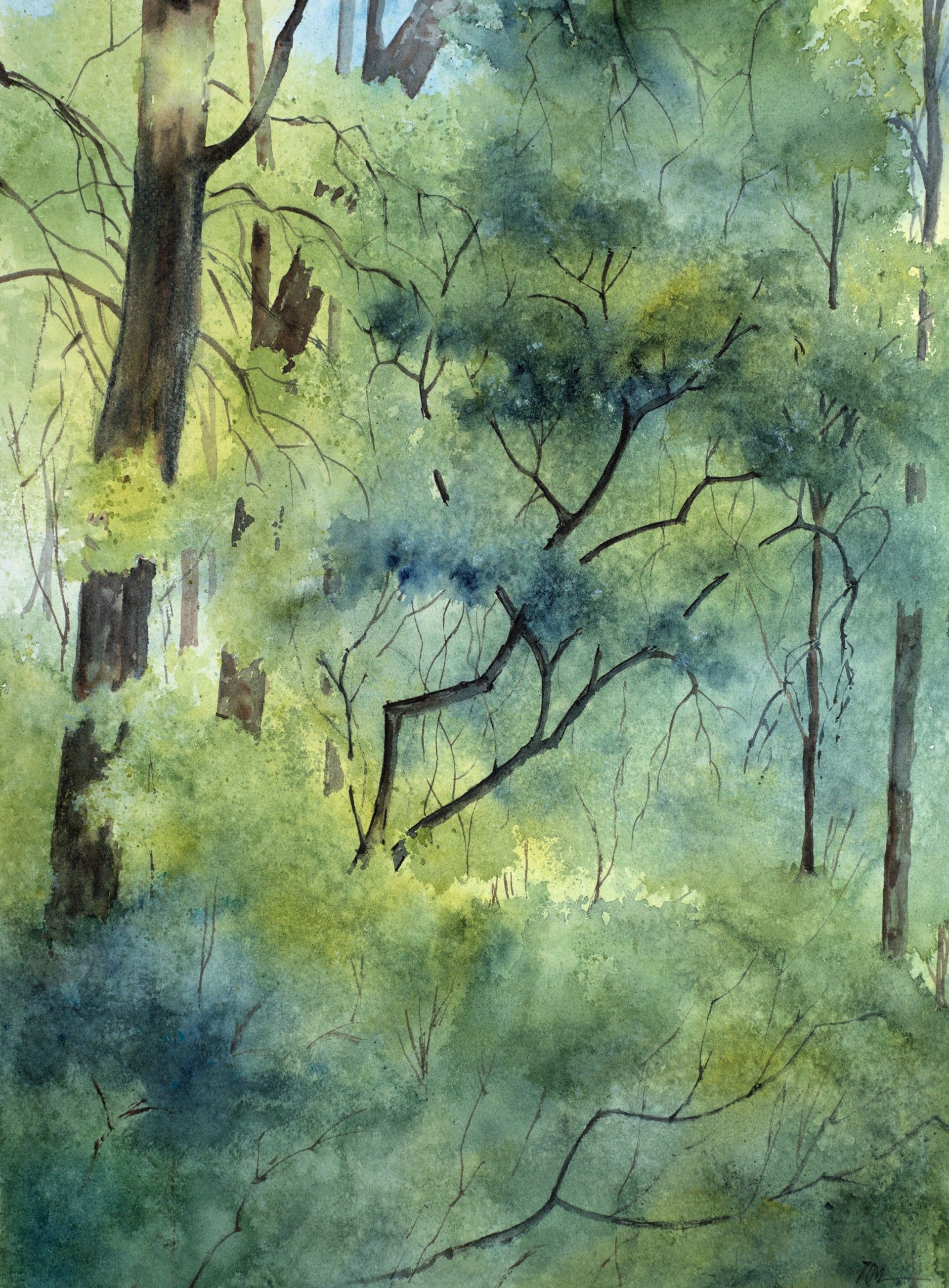 In Artsville's Interview with Bronwen McCormick...
She describes her experience working with the Collective for a three-month group exhibition that showed at Marquee Asheville.
You have been a supporter of us since we started as Sand Hill Artists Collective and then as we became Artsville Collective. How has this relationship impacted your art?
[Bronwen McCormick]: It is exciting to be recognized among other artists. There are so many talented artists in our small area—so much inspiration and creativity. The relationship added energy and purpose to my own art-making. SHAC's advocacy and engagement with artists in our area highlights just how much is going on locally and how rich the art community really is. SHAC/Artsville serves as a connection point and community builder for those that create and those that enjoy art.
Artsville gave me the opportunity to put my art out in the real world (vs. online) by providing a venue and allowing it to be received and seen. There is the creative making process and then the viewing/reception process. It was interesting to see and hear how people responded to my work and helped complete the circle from creation to viewing.
To read the full interview with Bronwen, please go here.
Bronwen McCormick: Website | Instagram | Purchase Work
---
What Artsville Learned From You in 2022
A message from Artsville Founder Louise Glickman.
Building Artsville USA with my husband artist Daryl Slaton and our Crewest/LA partner Scott Power has challenged me to learn a broad "palette"of new skills. More than bringing marketing skills to the forefront, and along with the talents of team-members Jenna Eberhardt and Kelly Saunders, we have taken the showing and selling of art to new directions supported by promotion, programs, and events for art enthusiasts. Team-building exercises this past month have allowed quality time for our team to acknowledge Artsville's successes as well as what and where we might better serve the art audiences in Asheville and beyond. For sure, we need to expand beyond focusing on art alone and move towards demystifying how to buy art. What grooves and moves an art enthusiast to like something enough to purchase it? How does this impact a business such as Artsville as we serve our artists and creative communities? Stay tuned.
2022 Takeaways with Artsville's Team
"Art is so much more than individual exhibits of beauty. Artsville has demonstrated that art is one of life's essential connectors, as its artists have shared their stories and learned from each other through its podcasts, events, exhibitions, blogs, and more. This year, Artsville will break down even more boundaries, helping artists expand their audiences and educating art enthusiasts. I've learned so much this year from my fellow creatives—whose art shows us the world through other perspectives—about art, marketing, business, and bravery." — Kelly Saunders
"Creating and sharing art is vulnerable. As a painter who is often hesitant to share my art, I've learned from working with the Artsville emerging artists that once you get past the nerves, there is so much reward that comes from sharing your work. Making art can be more than a personal process of joy—it can be a business. That's where Artsville's programming comes in, and I'm excited to continue to support and learn from artists in 2023." — Jenna Eberhardt
"Crewest's partnership with Artsville has helped build and strengthen our audience reach on both coasts. We share a common set of values and goals as we commit to helping artists tell their stories and promote their work on our podcasts, online exhibitions, art blogs and more. More importantly, we love what we're doing and working together, so we're enthusiastic about 2023 and expanding our efforts to help build awareness for these artists worldwide." — Scott "Sourdough" Power
"Artsville has given me the opportunity to test market my art and to interact with buyers and viewers of it. This has helped me refine the way my art is presented and has helped direct my future endeavors." — Daryl Slaton
"Artsville, as a collective and community, has brought me new perspectives on art and artists. Who makes it, who sells it, who buys it and why? Our programming has equipped artists to market for themselves and for some, this has been their first full scale experience with showing and selling their work professionally. Artsville has been a testing ground for me as I've immersed myself in new areas: curating, exhibiting, coordinating and building Artsville as a business. My takeaways: I'm blessed with friendship and fulfillment, and am grateful for all of you that have supported us in 2022." — Louise Glickman
---
Studio Visit: Mary Farmer Talks Encaustics and Inspiration
Encaustic painter Mary Farmer is an important part of the Artsville community. She exhibited with Artsville in 2022, joined in on a special end-of-year podcast (listen here if you missed it!), and invited us into her studio. Learn more about encaustics and her work by watching the video below.  
Mary Farmer: Website | Instagram | Purchase Work
---
News and More at Artsville Collective
Artsville NC Podcast: "How Asheville Became Artsville" Listen to all episodes in our series with Asheville area's arts and crafts doers, movers, and shakers. Listen to them at https://www.artsvilleusa.com/tag/podcast/ or on any podcast platform.