CELEBRATING Beautiful Cards and Memories - Elizabeth Moody at 90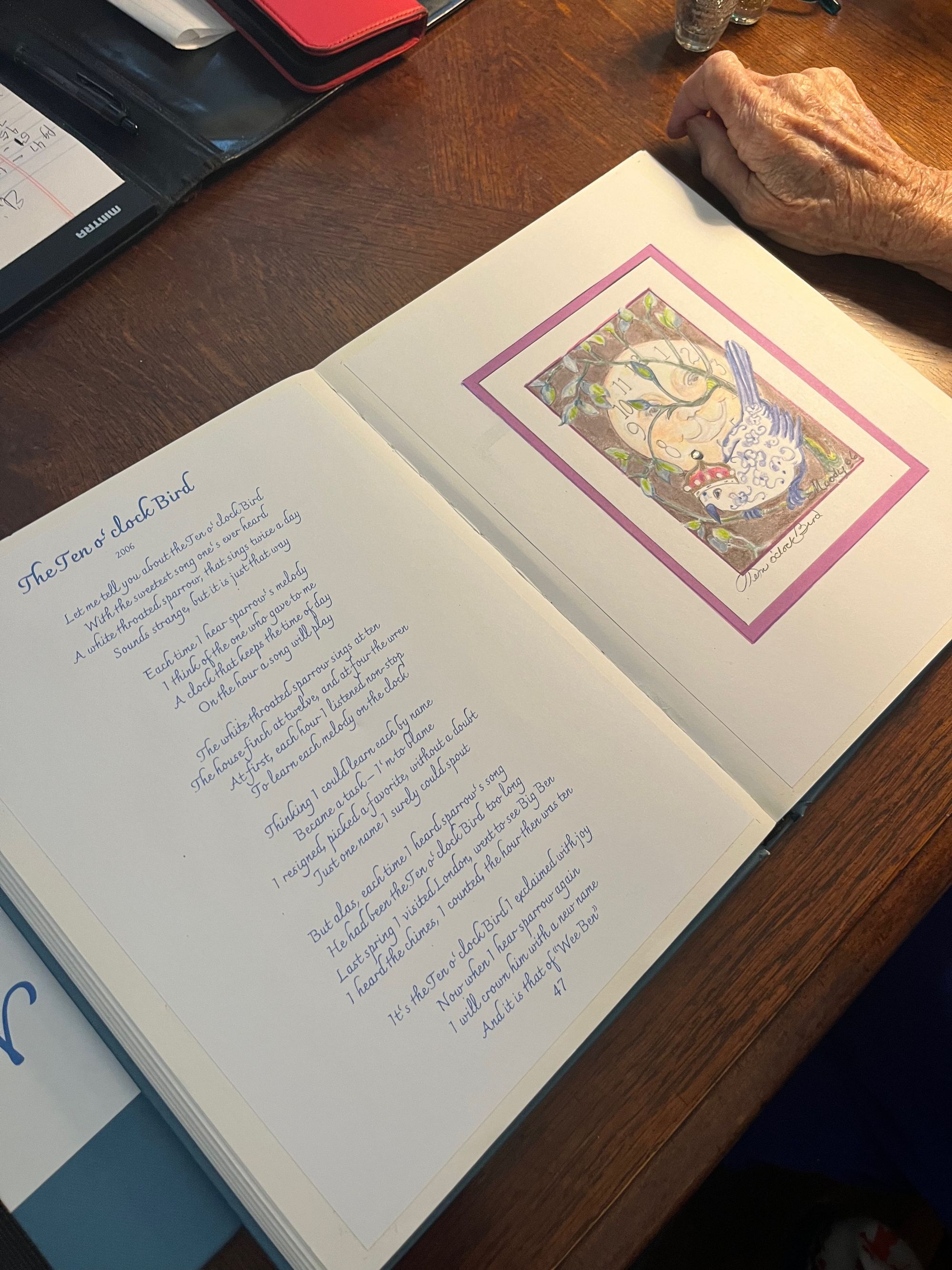 Summer is upon us, and Artsville is busy at home preparing for some exciting changes to come this fall.  In lieu of our monthly newsletter, we hope you enjoy this lovely piece celebrating Elizabeth Moody.  Don't forget that our latest podcast episode makes a wonderful listen whether you're by the pool or walking on the beach.  Happy July!
Elizabeth Moody and The Gift of Card Making: Telling stories through creative card making
Elizabeth Moody greeted me at the door of her house dressed in bold colors as bright and vivid as I soon learned her stories.  She will celebrate her 90th birthday this month.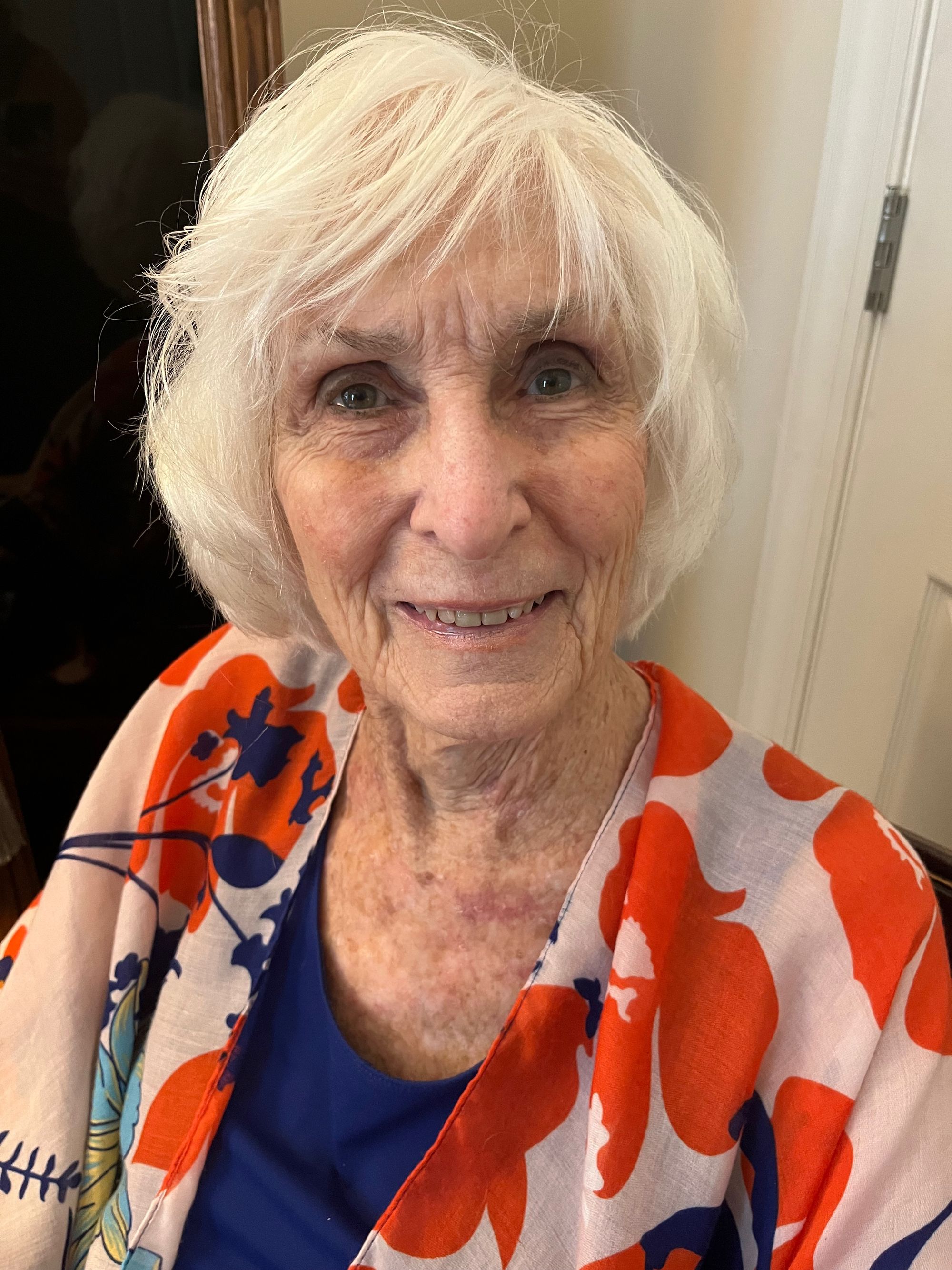 Elizabeth has been drawing and creating her masterpieces for most of her life.  "When I was old enough to hold a pencil or crayon, I would draw.  I loved to draw," she recounts, adding details about how they didn't have paper readily available when she was a child.
Her father's florist shop provided inspiration and prompts.  Around the age of 14, he asked her to draw a series of their flowers so that customers could use them to pick out what they wanted when they came in to build an arrangement or corsage.  Elizabeth still has the originals, many of which were drawn on the back of order sheets from the shop.‌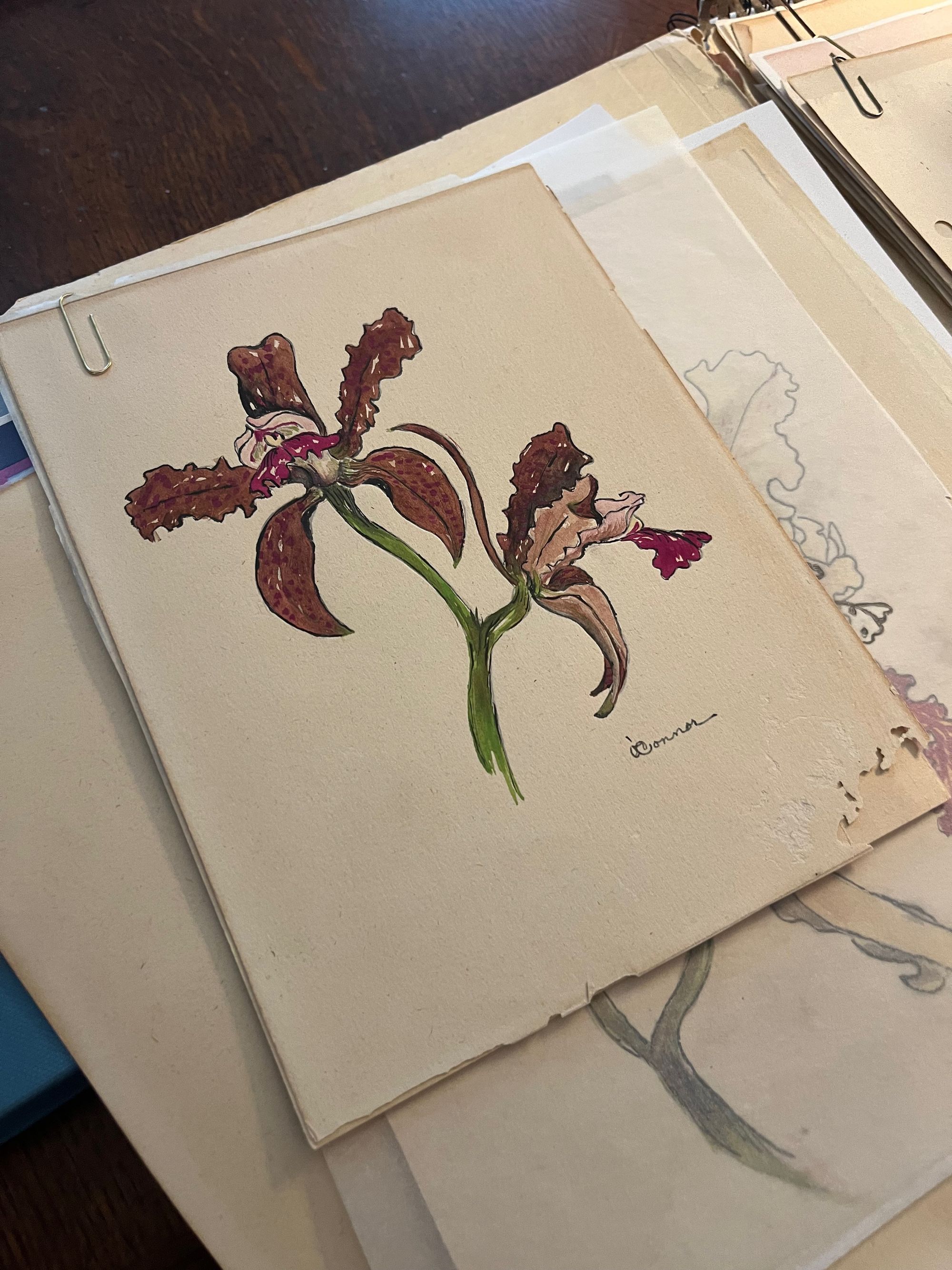 The Path to Card Making
After meeting her husband at their Greensboro high school, they were married and honeymooned in Asheville giving her her first taste of the beauty of WNC and Eastern Tennessee.  They settled in Myrtle Beach, SC, where she took an art critiquing course.  Her teacher told her that she needed to paint the things that mean something to her, which set her on a path.‌
In 1983, after she and her husband sold their business, Elizabeth sent out her first Christmas card; her many friends await these special cards, collecting them year by year. The cards feature a work of art carefully crafted and divinely inspired along with a poem penned by Elizabeth herself.  Each one holds significant meaning and together weaves a story shining a light on the heart and life of the creator.‌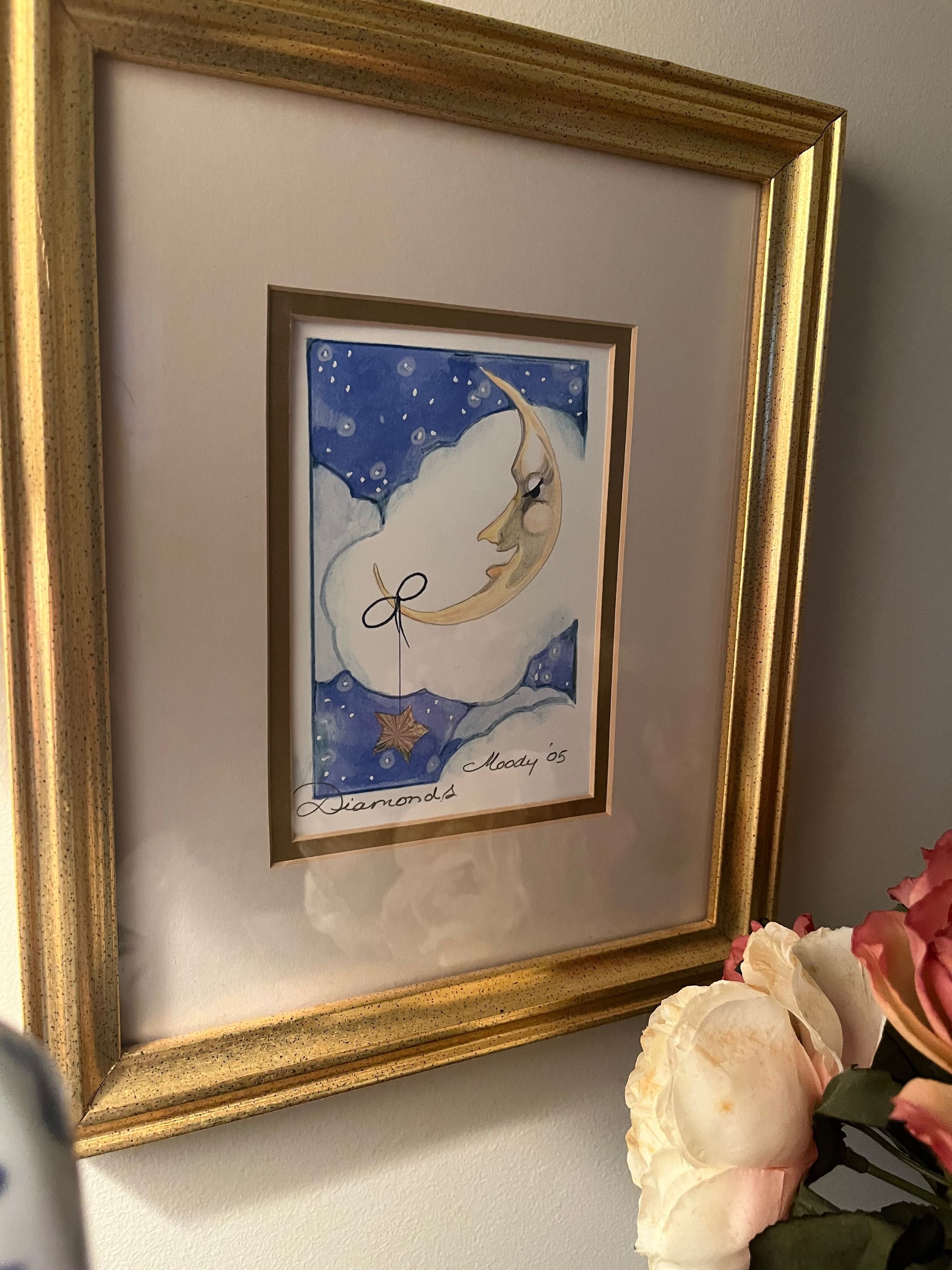 The Christmas Card Journey Begins
Forty cards were mailed her first year, with each original piece of art going through numerous iterations until it was just right.  Once the art was determined, she created a template and hand drew, colored, cut, and painted each card individually.  The cards were well received; she sent out 100 cards the following year.  For the next thirty years, until 2012, she meticulously and joyfully mailed out 100 cards every year creating each one from start to finish using her special skills with watercolor paints and pencils.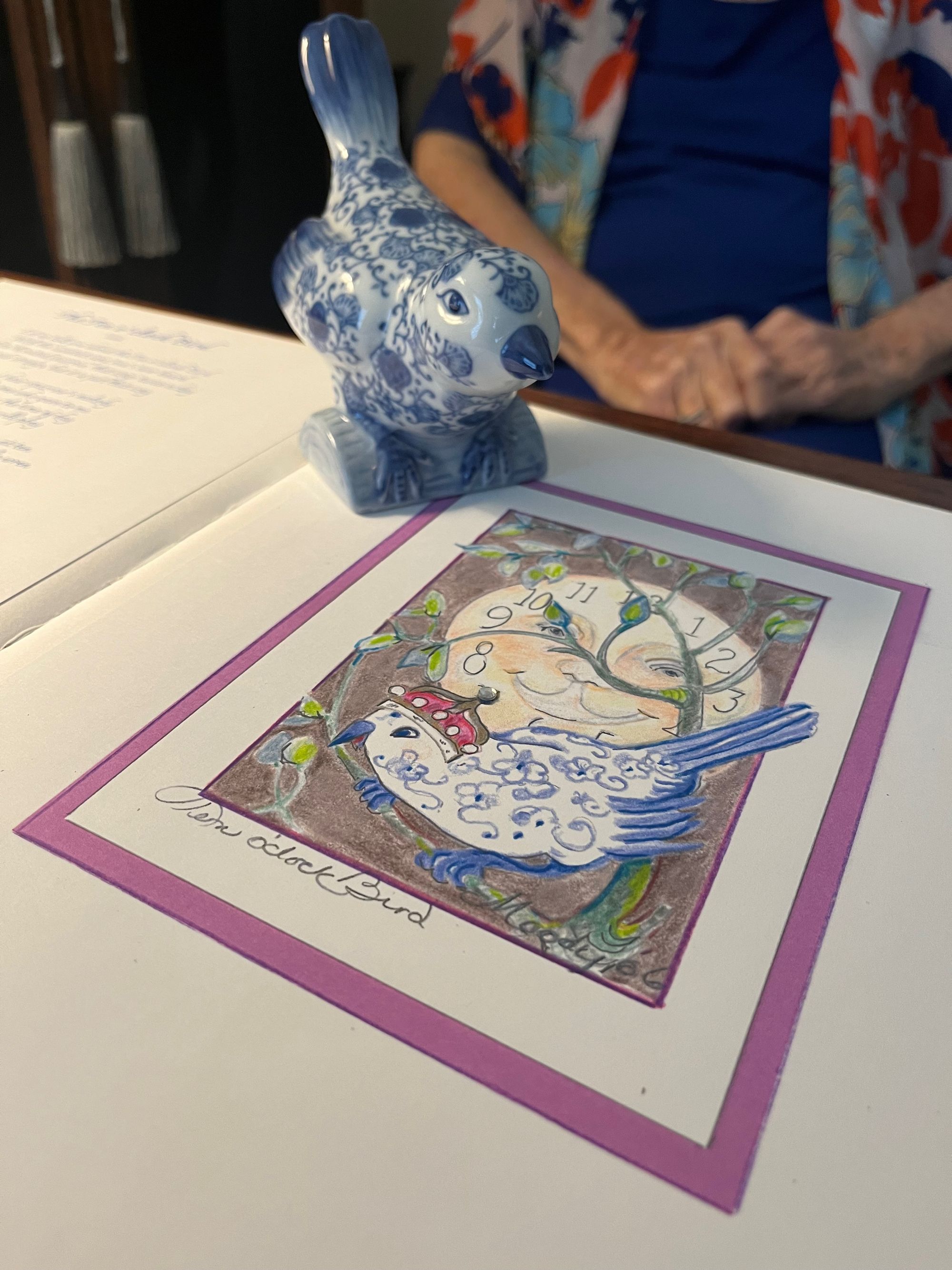 Although the process has been updated in the last decade thanks to the introduction of a copier aiding in printmaking, Elizabeth still mails out her cards each year adding sweet embellishments such as glitter and hand-drawn additions. Recently, the idea struck her that after forty years of card making, she'd like to see a compilation of her cards in published form.‌
‌
My Gift: Bringing the Cards Together
True to her meticulous nature, she eventually began creating a book of memories expressed through all forty cards. Called  "The Gift, " the books are for her two adult children to share and enjoy. She has carefully copied, embellished, cut, and crafted each page by hand.  Complete with a table of contents, My Gift walks through the years and stories of her life highlighting her poetry and art.  ‌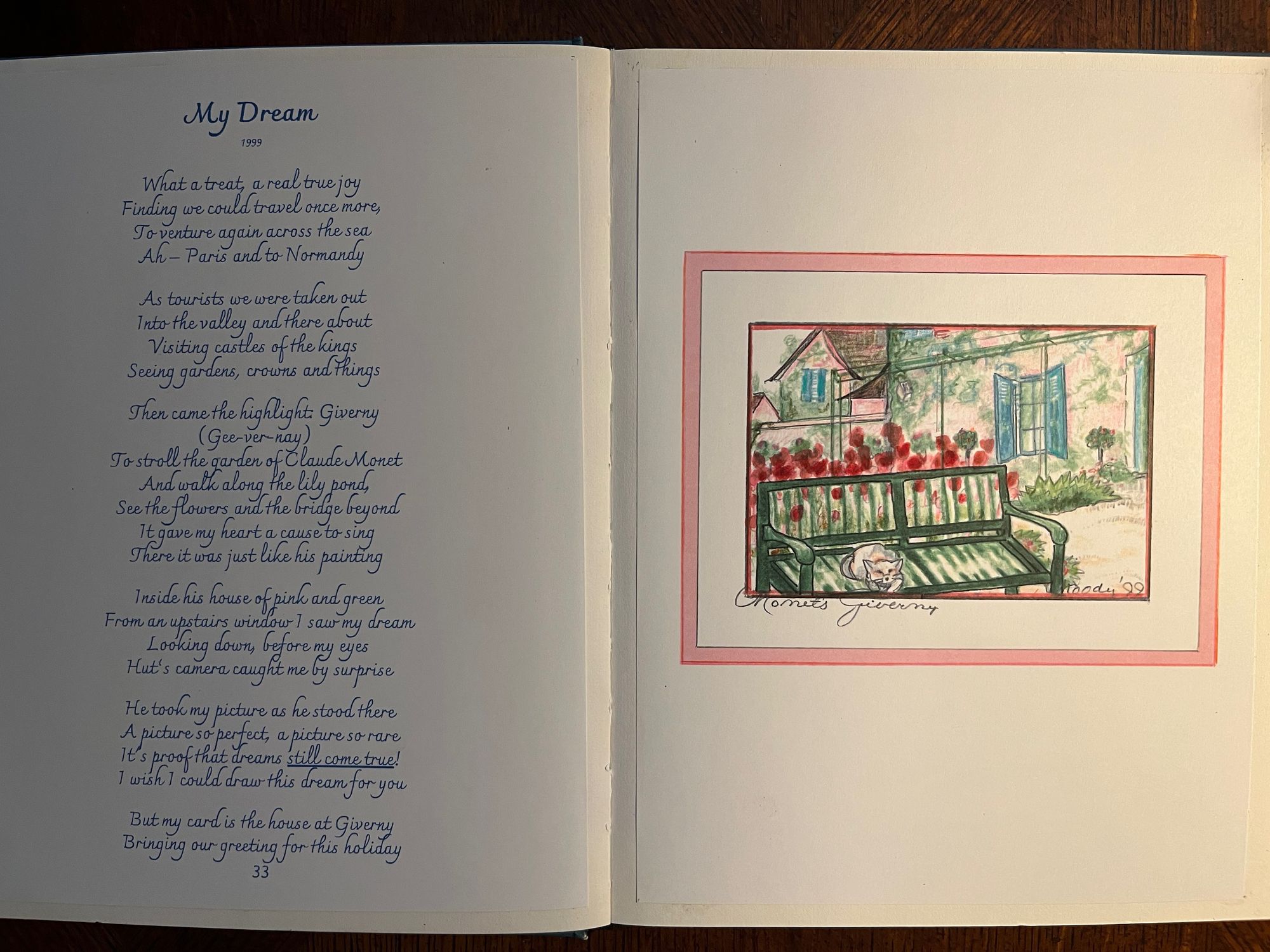 The Heart Behind the Card-Making Project
When asked what she gets from sending out the cards, she laughs and responds, "I get feedback.  Even from the ones that aren't my favorites, you just never know what's going to mean something to someone else."  Elizabeth later adds, "I want people to realize that their thoughts create their life.  Whatever you think about comes into your life whether you realize it or not.  You need to be kind. You're special. You're divine."‌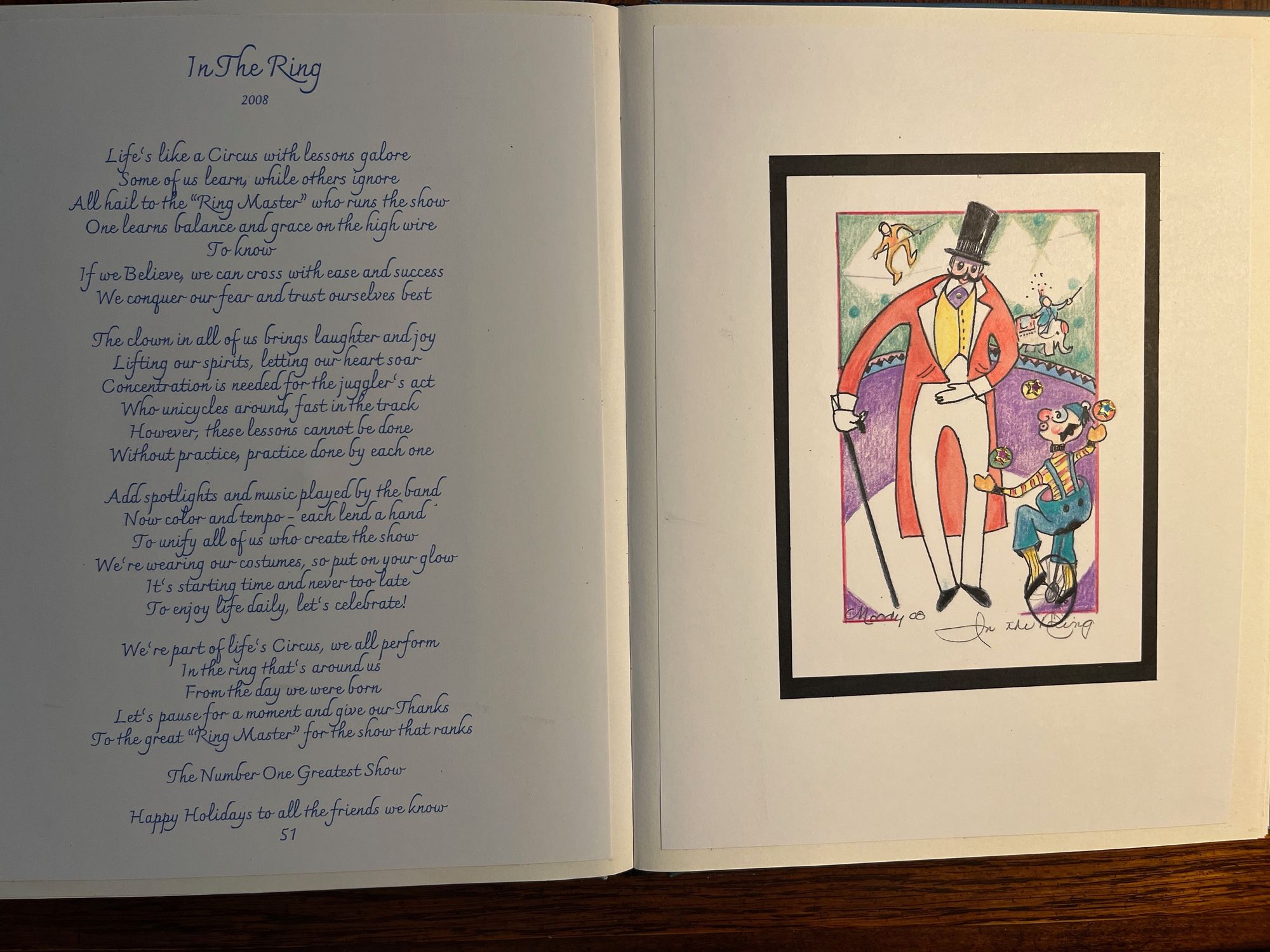 This sentiment is echoed in, "Diamonds," one of her favorite cards and poem.   Others include, "From There" a story about a Grouchy Goose statue purchased on a trip to Naples, FL, and "In the Ring" which has a spiritual message about a ringmaster.  Another family favorite is the "10 O'Clock Bird" featuring a bird and a clock from her daughter's house.‌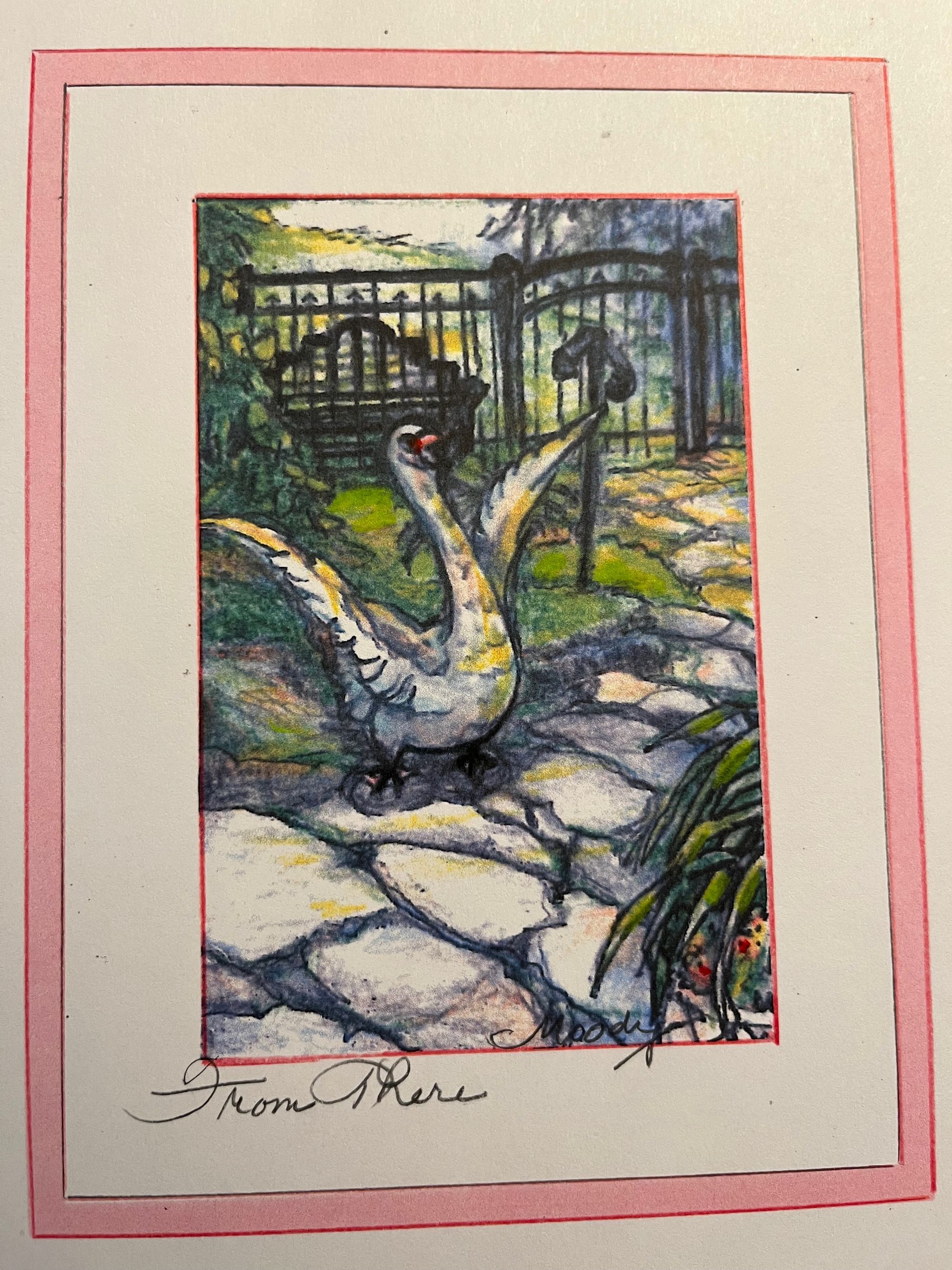 Elizabeth effuses peace and joy, which is confirmed when she repeats often, "I'm happy every day."  Her art and poetry pass on that light to all who have the pleasure of receiving a card or spending a moment in her presence. ‌‌‌
---

SHOW in our virtual gallery
The Artsville Collective online exhibition space provides a virtual format for artists to show their work, providing an opportunity for artists to broaden their reach to Artsville's expansive network of collectors, art enthusiasts, and supporters.
TALK on our podcast
The ARTSVILLE Podcast is available on all listening platforms and features extensive show notes here on our podcast pages. Created in partnership with Crewest Studio/ LA, Artsville celebrates contemporary American arts & crafts from Asheville and beyond for folks from all over the world to discover western North Carolina's creativity and culture.
TELL through our monthly newsletter
Our monthly newsletter here at artsvilleusa.com reaches your inbox with stories and news from artists and writers in Asheville and beyond. The content covers all things creative in art and craft including featured artist stories, personal stories, and news from artists and artisans, professionals, and collectors.